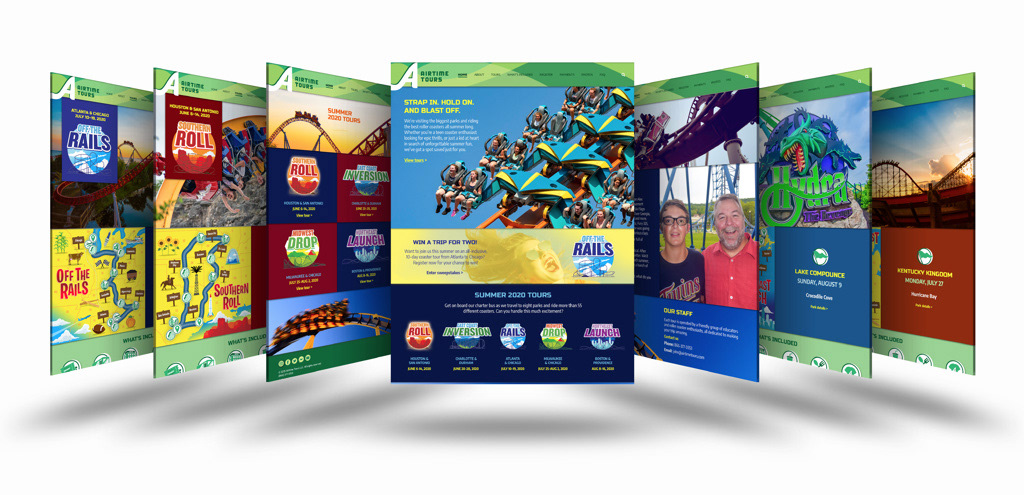 Airtime Tours is what happens when a teenage son shares with his dad a dream of road-tripping across the country to ride every roller coaster on his wish list—in a car full of friends, in ten days. His dad, who works with me as a copywriter, edited the idea slightly, turning the road trip concept into five full-blown tours in a charter bus with all the details covered.
Before this project, my knowledge of roller coasters could fit on a ticket stub. Sure, I rode plenty as a kid, but all in one park in the town where I grew up. And that was, uh, a long time ago. Getting up to speed was fun, but the real twist was designing a brand and a website that would thrill a teenage audience and help convince their parents to book a trip.
Working with a friend and colleague in the ad business makes for a smooth process. John knew what he needed, and he trusted me with dreaming up the brand look and feel. Matt, a former colleague, added whimsy and personality with a series of spectacular graphics and maps. John also hired Josh, a wicked-smart developer on our team at the office, and I knew what he needed to make the whole thing work. We poured a bunch of bright color, wild photography from a roller coaster enthusiast in Ohio, edgy copy—and fun—into a brand that offically launches in October 2019. Tours hit the road in Summer 2021.
Art direction and design // Chris Ralston
Writer // John Carlton
Illustrations // Matt Loehrer
Developer // Josh Lake
Photography // BK Photography, Shutterstock, Unsplash