In 2012, Sunflower Outdoor & Bike in downtown Lawrence, Kansas, celebrated its 40th anniversary, nearly all of it spent in the same location on Massachusetts Street. The shop is a full-service bicycle and outdoor outfitter serving a loyal group of local and area customers.
Sunflower owner Dan Hughes asked me to create a unique cycling kit to celebrate the store's anniversary, which would be sold and worn throughout the year. Graphics also would be used to create a range of accessories like spirit apparel, water bottles and stickers.
After initial concepting, I presented Dan with the idea of doing a commemorative set instead. I developed a series of four jerseys, one representing each decade in Sunflower's rich history, and one pair of bib shorts that would match each one.
The jerseys feature a colorway for each decade: Olive drab for 1972 when the shop was called Sunflower Surplus; yellow for 1982 when Greg LeMond won his first Tour de France and for a team that Sunflower sponsored at the time; red for 1992 when Sunflower suffered a fire in 1997; and blue for 2002 for the decade when Dan and Karla Hughes took ownership.
The kit has been a distinctive favorite among riders on the roads around Lawrence, and sales were expanded nationwide through Sunflower's e-commerce site.

Art direction, design and production
// Chris Ralston
Photos
// Sunflower Outdoor & Bike
1972
This kit has been especially popular with area mountain bikers (there's even a sleeveless version), but Dan Hughes made it famous by wearing it in his record-setting fourth victory at Dirty Kanza in 2013.
1982
This kit was inspired by a skinsuit worn by local legend Bill Anderson in the 1980s. The primary yellow color represents the first U.S. victory in the Tour de France, won by Greg LeMond in 1986, which is noted on the right breast.
1992
The Phoenix Rising represents a major fire in 1997 and the rebuilding of Sunflower. The store moved temporarily down the street in 1997, and a "satellite" logo on the chest was redrawn from a T-shirt made during that time.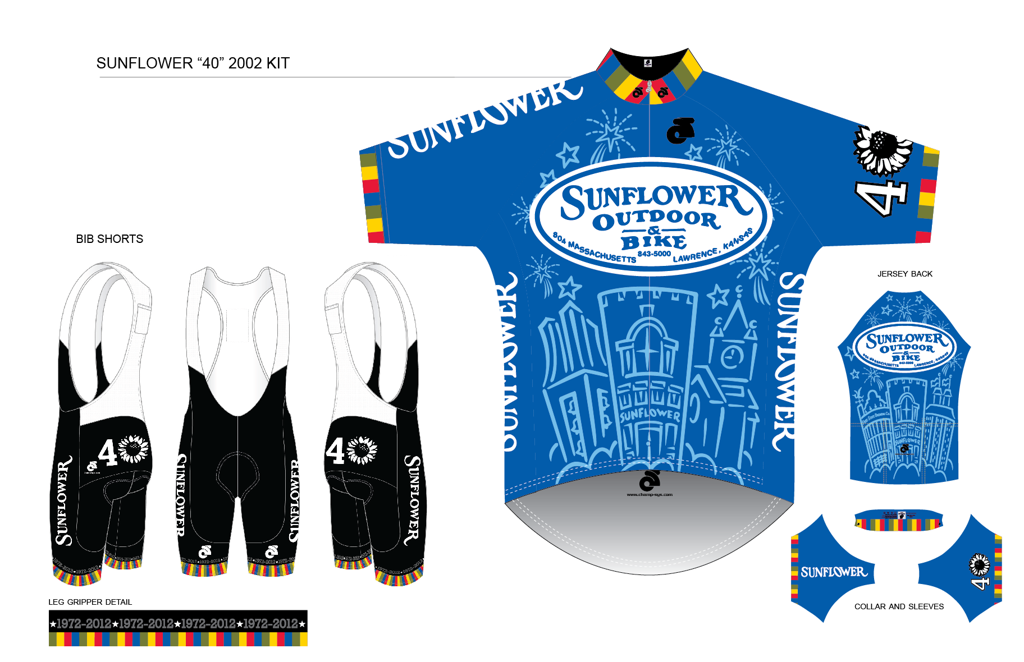 2002
This kit represents the celebration that continues today at Sunflower under the ownership of Dan and Karla Hughes.